Buckeye Buddies Overview
Too busy as an Ohio State Athlete to attend BuckeyeThon events?
The Buckeye Buddies Program provides Ohio State student athletes the opportunity to interact with BuckeyeThon miracle families. Many of these athletes are interested in our philanthropy and would like to become involved, however, their busy schedules and NCAA restrictions prohibit them from committing to the Dance Marathon and other various BuckeyeThon events throughout the year.
This program is devoted to giving athletes the opportunity to interact and build relationships with the kids and their families in a way they may otherwise not be able to do. Additionally, the program gives our miracle kids and their families the opportunity to meet and spend time with athletes whom many look up to. While these athletes may appear as superheroes to the kids, as their relationships progress, the athletes show the miracle kids they are the true heroes.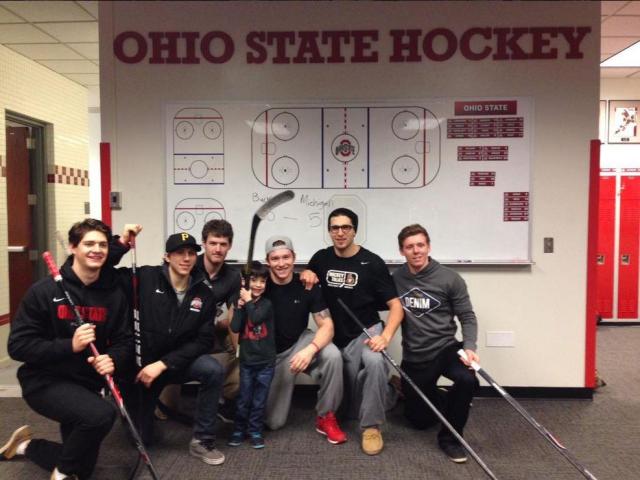 The Buckeye Buddies Program coordinates events on behalf of both families and the athletic teams. Events are organized through BuckeyeThon liaisons, and may range from playing legos with Ohio State athletes to special game day opportunities with an Ohio State team. Athletes are able to positively impact and inspire the lives of our children that have been and continue to go through so much. Buckeye Buddies is another one of BuckeyeThon's quests to bring special and happy moments into the lives of the miracle families.
You can find out more information about the Buckeye Buddies program at our Buckeye Buddies FAQ page.
If any of the above interests you, please contact our Director of Family Relations, Carly Hawk, at
hawk.243@buckeyemail.osu.edu
with questions about joining this program. We look forward to beginning our journey together soon!