Team Members
Team Members enjoy full involvement in the movement through access to BuckeyeThon's Signature Events, year-round engagement with the BuckeyeThon Kids and Families, the opportunity to attend our annual Dance Marathon and the ability to fundraise For The Kids.
---
Who are Team Members?
Team Members are Ohio State students who have committed to supporting of the fight against pediatric cancer. These dedicated students are called to fundraise and attend events throughout the year benefiting kids being treated by the Hematology/Oncology/BMT Department at Nationwide Children's Hospital. Every Team Member who raises a minimum of $250 is invited to attend the Dance Marathon, where they dance, play games, and participate in activities for 12 hours!
---
What do Team Members do?
Team Members make the miracles. They are the people who help raise the money that is donated to Nationwide Children's Hospital. They are the people who call their relatives, friends, and employers to receive donations that make the life of a child fighting pediatric cancer just a little bit easier. They are the people who come together in February to dance for a cure for pediatric cancer. And, most importantly, they are the people who make the BuckeyeThon a life-changing, transformative experience for one another and for every BuckeyeThon Kid.
Upon registering, each team member makes a commitment to raise money for the cause, but most go above and beyond to help us reach our goal! For ideas on how to fundraise, visit the Fundraising Toolbox.
---
What Events Can I Attend?
By registering, team members gain access to attend not only the Dance Marathon but also all other BuckeyeThon events throughout the year, such as CarnOval and the Fashion Show. Each of these events offers unique opportunities to interact with the BuckeyeThon Families and to continue adding to their fundraising goals.
To be invited to the Dance Marathon itself, Team Members must raise at least $250.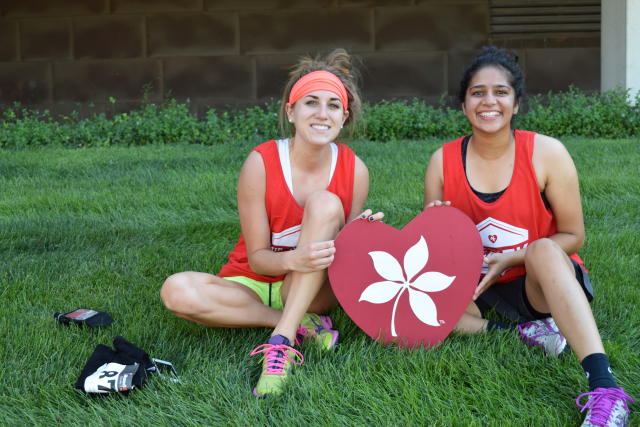 Team members attend one of two 12 hour shifts: the first shift (Scarlet Half) is from 7:00 p.m. on February 9, 2019 to 7:00 a.m. on February 10, 2019, and the second shift (Gray Half) is from 10:00 a.m. to 10:00 p.m. on February 10, 2019.
All Team Members will be notified of their Dance Marathon shift by January 28, 2019. If you have any questions please contact Nicole Marcus at marcus.136@osu.edu. All Team Members, regardless of the shift they attend, are urged to attend in the closing ceremonies at the end of the Gray Half. Further details about the Dance Marathon will be sent to registered team members closer to the event date.