Day of Miracles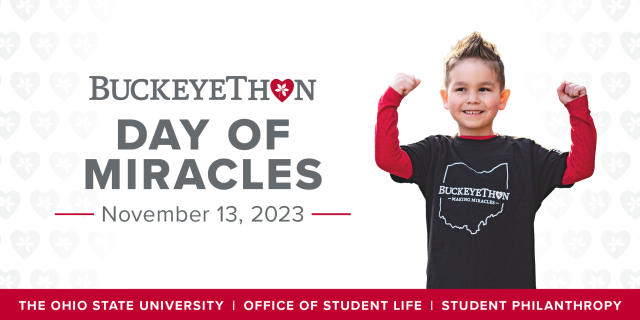 BuckeyeThon's Day of Miracles is on Monday, November 13! Last year, we helped raised over $300,000 in our largest single day push for fundraising! This year, help us break records towards Making Millions of Miracles for kids with pediatric cancer and blood disorders.
To help you fundraise, BuckeyeThon has created a Day of Miracles checklist! Check out the above linked documents for the AM and PM checklists!
Come visit the Performance Hall in the Ohio Union Monday, November 13th, from 10 am to 9 pm to see our fundraising station and get help fundraising for Day of Miracles. There will be cause connection activities, social media and text templates, merchandise, and various activities throughout the day!
---
If you have questions about accessiblity or wish to request accommodations please contact Sara Alsammerai at VPA.Buckeyethon@osu.edu.
For more information regarding Day of Miracles, please contact BuckeyeThon's Director of Marketing and Communications, Khushi Gupta, at mac.buckeyethon@osu.edu.