Day of Miracles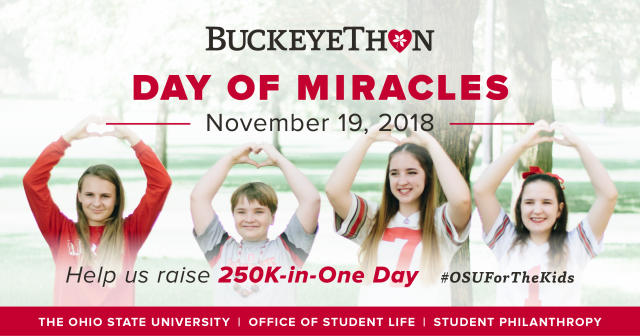 Day of Miracles is a record-breaking 24-hour fundraising push where we strive to raise money for Nationwide Children's Hospital. Last year, we raised an astounding $261,335.61 For The Kids - in one day! This year's Day of Miracles will take place on November 19, 2018. Join us in the hype room from 7:00 am until midnight, conveniently located in the Great Hall Meeting Rooms on the first floor of the Ohio Union. The hype room will be hosting several activities including:
5:00 Four Paws dogs and Balloon Battles
7:00 Giant twister
9:00 Silent Disco
Plan to stay a few minutes after each event for some words from our BuckeyeThon kids and families! For more information regarding Day of Miracles, please contact BuckeyeThon's Director of Events, Julie Garcia, at garcia.585@osu.edu.
Frequently Asked Questions
Where do I find the checklist?
How does the checklist work?

If you complete all of the items on our checklist and bring it to the Great Hall Meeting rooms of the Ohio Union, you will have the chance to have $50 donated directly to your account while funds last. Make sure you finish your checklist early to have the best chance of getting the donation!

Where do I turn the checklist in?

In the Great Hall Meeting Rooms in the Ohio Union across from the information desk.

When is the deadline to turn in the checklist?

11:59pm Monday, November 19th.

Do I have to physically be there to turn in the checklist?

Yes. In order to be eligible to recieve the $50 donation, you must physically turn in the checklist to the Great Hall Meeting Rooms before midnight. However, even if you are unable to turn in your checklist today we encourage you to complete the checklist so you are closer to reaching your fundraising goal.

What do you mean by "while funds last"?

There is no guarantee you will get the $50 donation but the earlier you turn in the checklist, the better your chance is to recieve it.

When will the $50 donation get uploaded?
How will I know if I got the $50 donation or not?

You will see the donation on your TeamRaiser no later than December 1st, 2018.